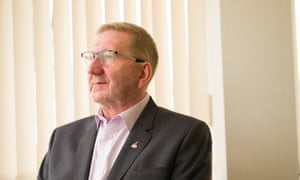 The battle for control of Britain's biggest union will be decided by a retired high court judge next year, a leaked document shows.
Jeffrey Burke, an employment law specialist, will hear claims that Len McCluskey, a close ally of Jeremy Corbyn, was unfairly re-elected as head of Unite.
Burke's appointment by a regulator follows Unite's attempt to strike out a claim by Gerard Coyne, who has accused McCluskey and his staff of manipulating union procedures to win the vote instead of him in April.
There could be a preliminary hearing within weeks, the letter said, followed by a full hearing in summer at which McCluskey and Coyne could give evidence.
The hearing may have significant repercussions for Labour. Unite is the party'smost generous financial backer and McCluskey's support has been seen as vital to the Labour leader over two years of challenges from some of his MPs.
Burke was appointed to the role by the interim certification officer, Gerard Walker, according to the letter sent to the union last week by a member of Walker's staff.
Coyne has complained to the regulator about the union alongside Richard Brooks, a fellow activist.
The letter said: "The certification officer notes that the complaints submitted by Mr Coyne & Mr Brooke [sic] are of a complex legal nature. For this reason, he has decided to appoint a legally qualified assistant certification officer (ACO), His Honour Jeffrey Burke QC, to hear the complaints.
"The ACO will decide the next course of action, although this is likely to be a preliminary/case management hearing."
Friends of Burke said he is "thorough, hardworking and a believer in the rights of unions".
The former circuit judge recently decided against Unite in a case where a union official claimed he had been unfairly dismissed after being accused of sexual harassment.
Burke has represented unions and employers in a number of employment cases. He has spoken for London Underground in cases against the RMT union on several occasions, including applying for a successful high court injunction blocking threatened strike action in 2001.
In theory, he could order an election rerun if he finds against Unite on any of the 10 rule breach claims submitted by Coyne. However, this would be an unusually bold decision for a certification officer.
McCluskey's position was secured after he won 59,067 votes (45.4%) compared with Coyne's 53,544 (41.5%), on a turnout of just over 12%, a closer result than expected.
Gavin Millar QC will represent Coyne against McCluskey.
The complaints centre on alleged breaches including allowing McCluskey to use databases while stopping Coyne from doing the same during the campaign, union employees actively seeking to prevent Coyne raising the legitimate question as to whether union resources were improperly used to assist with the purchase of a luxury flat, and repeated harassment of Coyne and his supporters by union employees.
McCluskey and his supporters are also accused of acting unlawfully in conducting a "robocalling" exercise to try to persuade members to vote in the final period leading up to the close of the ballot. Unite has consistently denied this.
Coyne was suspended from his job as a Unite regional secretary six minutes after the ballot box was closed and later sacked for what the union described as a "fundamental breach of contract".
Coyne has launched a separate claim asking to be reinstated as a union official.
A Unite spokesman said the certification officer is yet to decide whether any of his concerns require a full hearing.
"Such a decision will be taken by Mr Burke QC and is not to be undermined by public comment. Unite is confident that the CO [certification officer] will agree that this union's rules have been upheld in the recent election," he said.