The Workers of England Union agrees with the words of Francis O'Grady when she highlights the benefits of joining a Trade Union. We ask our members to promote joining the WEU to their colleagues, family and friends. (The WEU is only a telephone call away if you need advice or support at work). The difference between WEU representatives and the old, tired and politically affiliated Trade Union's is that our representatives are not work based colleagues who are worried about saving their own jobs. They are INDEPENDENT of your company and can discuss your employment rights with your manager without the fear of company sanctions being instigated against them.
All the Best and Happy New Year
Join a union to make your life better, British TUC tells low-paid workers
General secretary Frances O'Grady calls on employees to band together to confront low wage growth and zero-hours contracts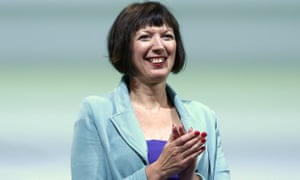 Frances O'Grady, the TUC general secretary, has urged workers to confront low wage growth and zero-hours contracts by joining a trade union, as she warned of a lost decade in living standards.
"To every worker – freelance, contract, temporary or permanent – I say: get a group of your colleagues together and join a union. Feel that support, that confidence and that pride that only comes when you stand with your workmates and use your collective sway to make working life better," O'Grady said in a new year message.
Trade unions have come under attack from the government, which has introduced legislation to curtail industrial action. But with average wages growing at just 2% a year, and zero-hours contracts becoming increasingly prevalent, O'Grady is calling on employees to band together.
Unions have sometimes struggled to extend their reach to the kinds of workplace where the use of temporary or casual staff is widespread.
Despite recent increases in average wages, after the long post-recession freeze, the TUC calculates the average worker is still £40 a week worse off in real terms than before the financial crisis – the equivalent of over £2,000 a year.
"According to the government, we're out of the doldrums and getting back to economic health. But not everyone is feeling it," O'Grady said. "It will take until 2018 for average earnings just to get back to the real value they held in 2008. Ten years of pay going backwards while everything else – transport, housing, bills – gets ever more expensive and debt piles up. A lost decade."
She expressed concern about the growing evidence of a two-speed recovery, with consumer spending and house prices expanding strongly, while manufacturing and exports have remained weak, despite the chancellor's determination to "rebalance" the economy.
The TUC is calling on the government to invest in boosting productivity and supporting industry, to help the creation of better paid jobs. Although unemployment failed to increase as sharply as many economists expected during the crisis, pay growth has failed to recover to pre-recession levels, despite the fact that the number of people in employment has surged to a record high.
"Without government action, Britain is at risk of turning into a 'below stairs' labour market – college leavers are eight times more likely to find work in the service sector than in manufacturing. And when they do find work, it's too often dead end, with little chance to progress," O'Grady said.
Firms will be forced to give any staff on the minimum wage who are over the age of 25 a 50p pay rise in April, as the government's "national living wage" comes into effect. But business lobby group the CBI has described the move as a gamble. Some companies have warned they may push up prices for consumers, or lay off staff, to cope with the increased wage bill.
The TUC has welcomed the boost to minimum pay rates, but O'Grady said she would like to see trade unions strengthened so workers can fight for more generous pay themselves.
"You say you want a high-wage, high-growth country. We want that too. So in 2016, stop attacking trade unions and start working with us instead. That's how we'll build a Britain where we all move forward together."
Separately, the Institute of Directors (IoD) ,which speaks for company directors, warned it expects corporate profits to peak in 2016, with the Bank of England poised to push up interest rates.
"The outlook for the UK remains positive, but 2016 will see some of the most strongly performing indicators, notably employment and corporate profits, falling back. The last few years have been a good period for larger business, as they have been able to borrow cheaply, and wage growth has been slow. This is set to turn around this year as interest rates finally go up and talent wars intensify."
However, the warning that the scarcity of talent will push up the cost of staff contrasts with forecasts from the Chartered Institute for Personnel and Development, which warned earlier this week that it believes pay growth has hit a plateau.
The IoD also cautions that the long period of ultra-low interest rates may have led to "misallocation of capital", with firms able to load themselves up with cheap debt.